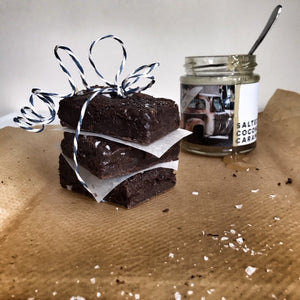 Vegan and Gluten Free Salted Coconut Caramel Brownies
Regular price £30.00 Sale
It's not easy creating delicious gluten and dairy free brownies without eggs but having tested and tasted literally for months, if you can excuse the pun we have finally cracked it! And not only have we created the perfect vegan brownie we have now filled it with our own mouthwatering salted coconut caramel. Serve them with a scoop of vegan ice cream or a swirl of whipped coconut cream for a sophisticated and luscious dessert.  or you could just treat yourself after all you are worth it!
Ingredients
For all allergens please see ingredients in bold
*Dark Chocolate (cocoa mass, sugar, cocoa butter, sunflower lecithin), vegetable oil, water, salt, citric acid, vitamin A, fit D, carotenes, unrefined sugar, rice flour, potato flour, tapioca, maize, buckwheat flour, bitter dark chocolate powder, sweet potatoes, potassium carbonate, xanthan gum, vanilla extract, lemon juice, coconut cream
* may contain traces of soya
Store in an airtight container at room temperature or the fridge depending on personal preference. They freeze beautifully.