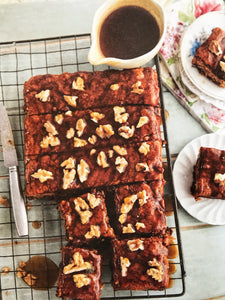 Gluten Free and Dairy Free Date and Walnut Traybake
Regular price £30.00 Sale
The classic combination of nuts and dates in our gluten free and dairy free sponge traybake tastes absolutely wonderful, but the caramelized topping scattered with chopped walnuts makes it sublime, my husband's favourite! This beautifully packaged traybake makes the perfect birthday, Christmas or thank you gift for family and friends or you could just treat yourself after all you are worth it!
Arrives as a tray of 16 
Ingredients
For allergens see ingredients in bold
Vegetable oil, salt, water, Vit A, Vit D, carotenes, dates, egg, rice flour, potato flour, tapioca, maize, buckwheat flour, mono calcium phosphate, sodium bicarbonate, xanthan gum, ground almonds, light brown sugar, *coconut cream (coconut extract, water emulsifier, stabiliser), walnuts 
*may contain traces of peanuts 
Store in an airtight container at room temperature, our sponge cakes don't like being kept in the fridge.  They freeze beautifully.