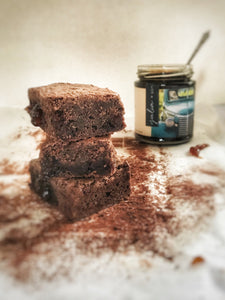 Gluten Free and Dairy Free Seville Marmalade Brownies
Regular price £30.00 Sale
Winner of the coveted two gold stars from the Great Taste Awards where the judges commented, 'yum, what a great product. The chocolate flavour is excellent and the gluten free and dairy free brownie has a more-ish fudgy texture. We really like the sharp kick from the marmalade, another of our two gold star winners which does a great job of balancing the sweetness, more please!' These beautifully packaged brownies make the perfect birthday, Christmas, or thank you gift for family and friends or you could just treat yourself after all you are worth it!
Ingredients
For allergens see ingredients in bold
*Dark chocolate (coca mass, sugar, cocoa butter, sunflower lecithin), vegetable oil, salt, water, Vit A, Vit D, carotenes, eggs, unrefined sugar, rice flour, potato flour, tapioca, maize, buckwheat flour, bitter dark cocoa powder, potassium carbonate, xanthan gum, orange zest, Julia + son Seville Marmalade (Seville oranges, unrefined sugar, dark brown sugar, lemons) 
*may contain traces of soya
Store in an airtight container at either room temperature or the fridge depending on personal preference. They freeze beautifully.