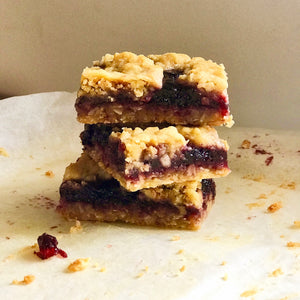 Vegan and Gluten Free Peanut Butter + Blackcurrant Bars
Regular price £30.00 Sale
Gooey, sticky and with a substantial peanut crunch these addictive vegan and gluten free bars are made with organic and palm oil free peanut butter that contains no added sugar or salt. Each bite bursts with deliciously chunky and sweet blackcurrant conserve, perfect for gifts, lunch box treats, party snacks and for anyone who can't resist that age old favourite combo of pb + jam!
Ingredients
Peanuts, rice flour, potato flour, tapioca, maize, buckwheat flour, xanthan gum, unrefined light brown sugar, salt, gluten free oats, sodium bicarbonate, vegetable oil, salt, water, Vit A, Vit D, carotenes, blackcurrants, sugar, lemon juice, fruit pectin
Store in an airtight container at either room temperature or in the fridge depending on personal preference. They freeze beautifully.